"Sugar is holy." How sugar brought Saul Flores to the world of NFTs.
Saul "Saulito" Flores is a passionate photographer whose black and white photos reveal the humanity of his subjects. His Sugarland series features powerful portraits of Mexican sugar cane farmers.
I first discovered you via Foundation, but you have been taking photos for a while. When did you first pick up a camera?
I first picked up a camera in 2010 while living in Raleigh, North Carolina. At the time, there was a lot of attention on migrant communities in the South (deportation scares, hate crimes, polarized news cycles.) I felt motivated to tell the stories of our migrant communities.
That year, I started a project called The Walk of the Immigrants where I decided I would walk from Quito, Ecuador to the United States to document the journey immigrants make to reach this country. I bought a Nikon D80, a 50mm prime lens, embarked on my 5,328 mile walk, and documented the journey through photographs.
Let's talk about Sugarland. It is a powerful collection of photos. What is the story behind the collection?
My family is from a small town in Mexico called Atencingo, which is widely known around Mexico for its rich sugarcane. SUGARLAND is a collection dedicated to celebrating and preserving the dignity of Mexican sugarcane workers. Set in Atencingo, Mexico, the series captures the daily lives of the farmworkers who prepare the sugar fields for harvest. SUGARLAND is meant to give people a glimpse into a world of danger, hard labor, and brotherhood. It's something I was inspired by when I visited and really wanted to showcase.
What is your personal relationship with sugar?
My mother grew up in Atencingo, Mexico, a small town known for its rich sugarcane. Every year to prepare the sugarcane for harvest, there's a pilgrimage to the Basilica of Our Lady of Guadalupe in Mexico City. At the end of the journey they reach the basilica and pray for a rich harvest.
Over the last few years, I've been journeying back to Atencingo and learning the craft of sugar making and diving into the traditions surrounding the harvest. During those trips, I've developed a deep relationship and commitment to my community and the laborers who work tirelessly to produce the sweet, rich sugar that Atencingo is known for.
What does the public need to know about sugar — this very popular ingredient, and its cultural significance?
When most people think of sugar, they think of it as an ingredient you use for baking, or something you add to your coffee for sweetener, or even something to stay away from. For all of us in Atencingo, sugar is sacred. It's holy. It's God.
Harvesting sugar provides our community in Mexico with abundance. It's a symbol of tradition, faith, and trust in higher power. Every year we make a 100-mile pilgrimage to the Basilica of our Lady of Guadalupe. And if we make it, we're granted one wish. Many people wish for good health and a rich harvest. So for us, sugar is more than just an ingredient – it's something deeply sacred that guides our community and our livelihood.
For all of us in Atencingo, sugar is sacred. It's holy. It's God. Harvesting sugar provides our community in Mexico with abundance. It's a symbol of tradition, faith, and trust in higher power.

Saul Flores
There are 6 photos in the series. Can you talk about them and the people in the photographs?
Each of the people in the six photographs are known as cortadores, meaning "cutters" who physically cut down the stalks of sugarcane during the harvest. At the end of every harvest each year, the cortadores burn the fields and for miles, all you can see are bright orange flames dancing across the land. It's a very dangerous aspect of the sugar making process, but it's the only way to soften the cane. After the fields burn, the cortadores disperse throughout the field with their machetes and begin to slice the stalks.
What inspired your journey to photography?
What led me to photography initially was a feeling of frustration. As a first-generation, Mexican-American and U.S. citizen, it was heartbreaking to see the media portraying immigrants as animals. I wanted to show everyone how beautiful and abundant our cultures are. I picked up a camera to start documenting the beauty and rich heritage that I see in our communities — and to show people that we are human.
Tell me about speaking at universities and the work you do there with students.
As an activist, I have the honor of traveling and speaking at colleges and universities about my passion projects. Most of my presentations involve storytelling around my images taken during The Walk of the Immigrants and during the sugar pilgrimage in Mexico. At the heart of my work, my goal is to advocate on behalf of underserved communities and amplify voices and stories that may not normally be recognized in mainstream media.
What is Mama Sugar?
MAMA Sugar is a sugar company dedicated to bringing you fresh sugar harvested from the cane fields of Atencingo, Mexico. It's inspired by Our Lady of Guadalupe, will be launching summer 2021, and pairs perfectly with your morning coffee. It's my ode to my mother's hometown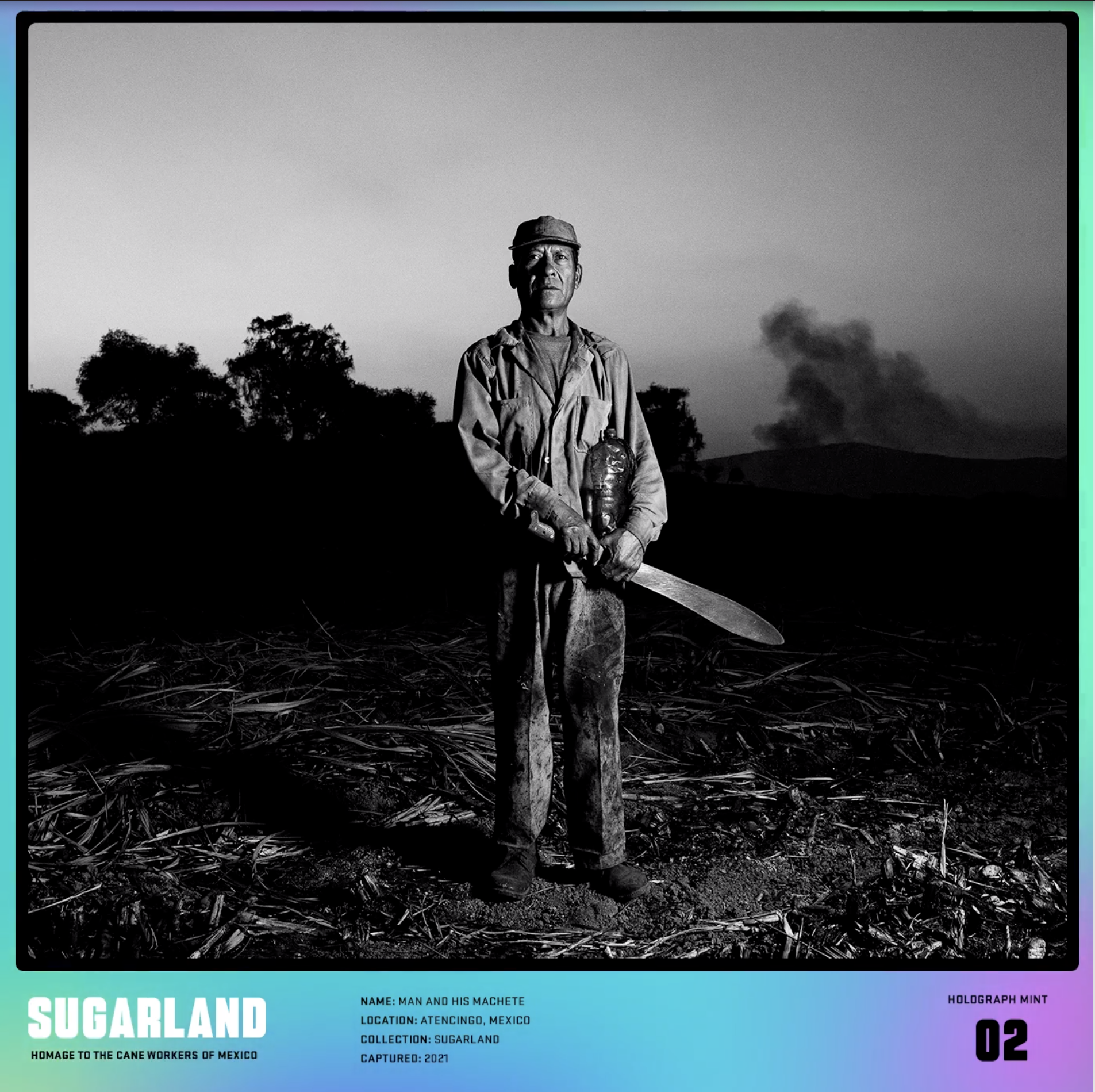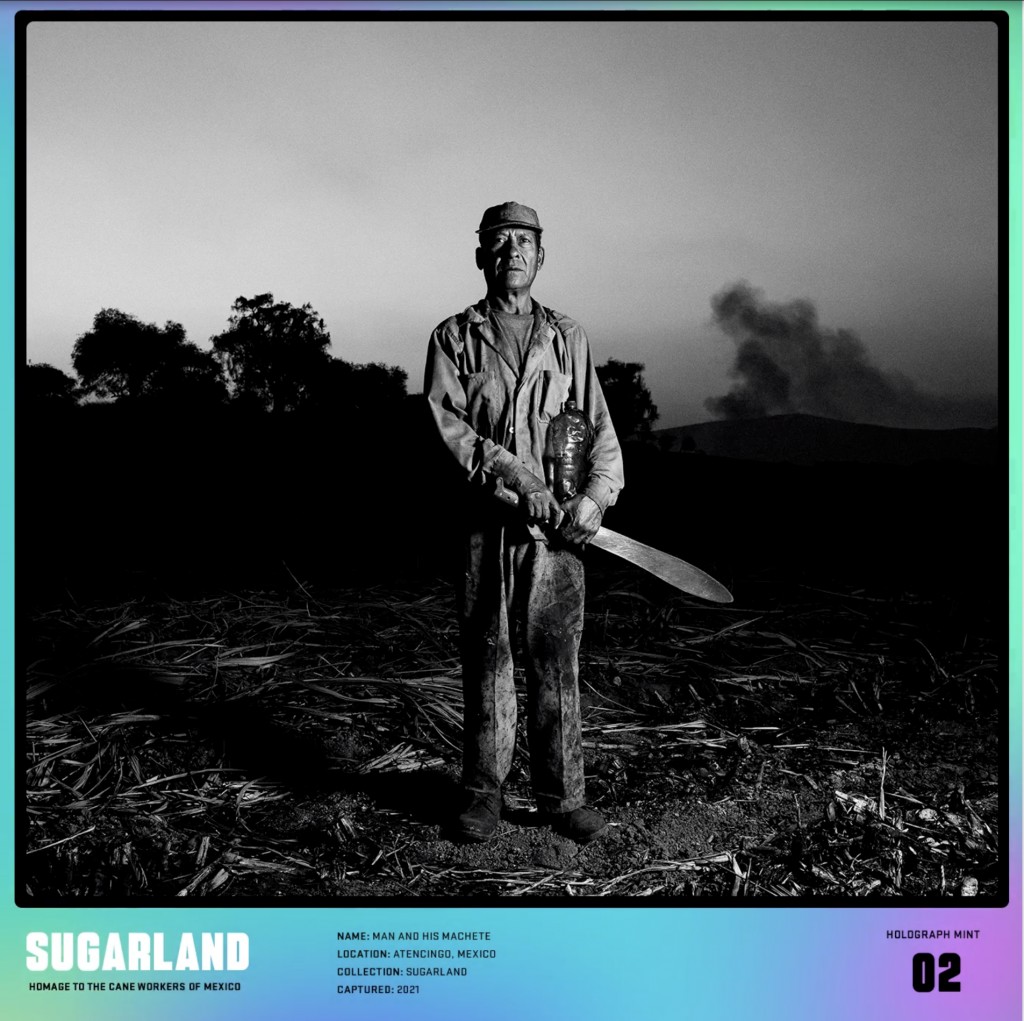 Why did you opt for B&W and not in color in this series?
I wanted SUGARLAND to be timeless. So, I decided to process everything in black and white to preserve the dignity and moment that we were living in. Processing the photographs in black and white was an intentional decision born out of the idea that this history, this heritage, and these sugarcane workers are an iconic piece of our greater Mexcan culture.
Where can the readers of The BlkChain see more of your work?
I'll be minting more work soon, and in the meantime, you can follow along on Instagram @sweetlikesaul.
Why did you mint this collection as NFTs?
This series is really special to me, and what a better way to cement a body of work than on the Ethereum blockchain?! Hehe. I wanted to make sure that this work lives on forever.
What is your hope for this collection?
SUGARLAND is an NFT Charity collection. The intention is that the NFTs will help provide resources and education to sugarcane workers, work to decrease child labor in Atencingo, Mexico, and provide COVID-related relief to the community.
You're pretty new to the NFT space, what inspired you to take the leap?
Mark the Habibi has been PUSHING me into the NFT space and I finally felt like I had something worth saying. The love I have for the community is what made me make the jump.